Liars Club has been around for 7 years, bringing you the best dirrrrty beats and dj sets for Nottingham and London. Set up by Ricky Haley in 2004, Deer Brains have been lucky enough to grab five minutes for a Liars interview.
Name
Ricky Haley
Age
Old enough to know better
Job
I run Blacklight Tours(tour management for bands), run Liars Club events and Dot To Dot Festival, among other things.
Location
Currently, roadside services, France. London or Nottingham normally.
Website
www.liarsclub.co.uk
www.blacklighttours.co.uk
Twitter
/rickyhaley
Welcome to DEER BRAINS, How are you today?
Very tired, I'm currently driving Times New Viking from Barcelona to London with only a couple of hours sleep. The usual.
Can you tell us a bit more about Liars Club?
Liars Club started in March 2003 between myself and fellow Norwich Art School graduate Cerys Thomas. Quite by accident I agreed to run a night at The Social in Nottingham playing B-52s and noisy American punk like Le Shok. Eventually our dj sets became more dance friendly when we gave Riotous Rockers their first ever DJ gig, and we lucked out with some of the guests in our first few months. It looks strange that bands such as Patrick Wolf, Scissor Sisters, Bloc Party and Franz Ferdinand all played in our first year.
We spent two years at Stealth every Saturday with a more electronic bent. Our nights are infrequent these days due to my being on tour most of the year and take at various venues in Notts such as Chameleon or The Bodega. Recent guests would include Crystal Stilts, Nite Jewel, Fuck Buttons, Health, Kindness and also Ganglians in June.
Where can we attend a Liars Club night?
In Nottingham at the Bodega or Chameleon. In london often at the Macbeth.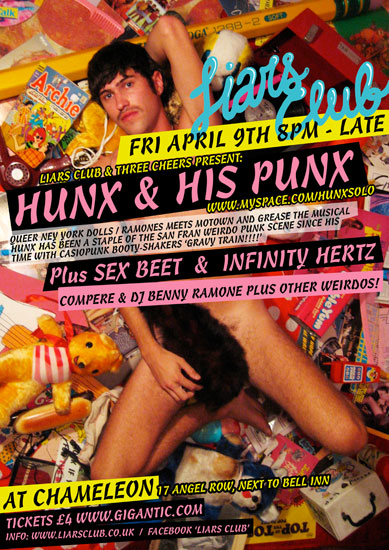 Liars Club from what we understand is all about getting drunk, taking drugs and listening to dirrrty electro beats?
Maybe two years ago. Pipe n' slippers are now given out on the door. Electro nights are ten-a-penny and that's never what we were. When people started thinking that's what liars club was, that's when I left Stealth to try different things. We always focus on the live bands followed by a dance party, as long as you can dance to it it doesn't matter what genre.
We are celebrating the 7th birthday this week with Times New Viking, Yuck and local Notts naughty boys Human Hair
Do these artists find you or do you ask them to play?
Generally I approach bands that I really like. Sometimes agents offer me bands and since we don't do a regular weekly slot these days I can just book my favourites. A lot of bands approach me, I often don't get time to listen to them, hopefully the terrible artwork or titles don't put me off checking out a potentially good band!
What's next for Liars?
I'm working more with other similar Nottingham promoters such as New Weird Nottingham, Three Cheers and Beach Hunks.
What's your inspiration?
Slade. Glam rock. Genderbenders.
Which websites do you visit regularly?
Kitty roulette
(chat roulette is too scary)
Ebay
and
Gumtree
for buying amps and music equipment
Spankwire
Youtube all the time, I compile my favourites
here
.
Where is your favourite place to be?
The internet
We appreciate how busy you are and would like to say a massive Thank You! XOXO Any thing else to say?
No comment x
Liars club have totes and bags that you can buy
here
.